Commercial Tent Rentals in St. Louis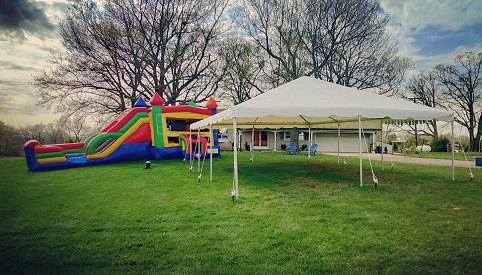 Commercial Tents
We have everything you need for your next party.
Are you hosting an outdoor function? Are you worried about providing shade, shelter, and security for your guests? The Bounce House Company is your go-to commercial tent rental in St. Louis. We offer a complete range of tents to meet your needs. Our tent inventory ranges from sizes suited for a backyard BBQ to a sit-down dinner for your wedding guests. We offer commercial tent rentals in St. Louis and the surrounding areas.
Whether you're planning a high school graduation ceremony, throwing a backyard bash, or celebrating a special occasion, The Bounce House Company has the tent to make your event a success. We have everything from 20x20 tents for small-scale parties to our largest 40x60 tents to host a great experience.
Our Tents
The Bounce House Company exclusively rents top-quality tents to protect your guests from the hot sun or unfortunate rain shower. We know how unpredictable the weather in MO can be; we do our best to combat the elements and keep your party guests cool, dry, or out of the blistering sun.
Our commercial tents can accommodate theater-style seats, banquet-style seats, and round tables and chairs seats depending on your personal preference. Our tents are secured in place using concrete anchors, so you never have to worry about a gust of wind ruining your perfect outdoor gathering.
Our crew assembles and disassembles the tents. We always show up well before your event is scheduled to start to ensure the space is ready to go from when the first guest arrives. Nothing kills a party vibe like seeing the tent guys still working. Don't worry. We'll be out of your way until it's time to come and pick the rental.
Commercial Tent Sizes
Our clean, high-quality tents are the best in the industry. We can set up our tents on concrete or grass. Browse our tent range below to find the best size for your next gathering.
20x20 Tents
If you're hosting a small backyard gathering, birthday party, or intimate affair, our 20x20 High Peak Tents and Frame Tents can accommodate up to 40 people.
20x30 Tents
Our 20x30 High Peak Tents and Frame Tents are ideal for smaller wedding receptions and backyard events. 20x30 tents can accommodate up to 60 people.
20x40 Tents
For your next mid-size gatherings like a graduation party, corporate event, or any other occasion you need to host, our 20x40 High Peak Tents and Frame Tents can hold up to 80 people.
20x60 Tents
Our largest size is great for graduation ceremonies, larger outdoor weddings, corporate events, and big backyard bashes. The 20x60 High Peak Tents and Frame Tents can hold up to 120 people.
Not sure which size is best for your site? Call us today, and we'll help you decide which commercial tent is best for your upcoming occasion. Be sure to ask us about our tables, chairs, sidewalls, and lighting. We have the add-ons to make our event extra special.
Your Event. Covered
We have what you need to host an epic event. Missouri is an incredible place to host weddings, corporate gatherings, and more special events with hundreds of beautiful locations. We offer high-quality tents and party essentials to ensure your next event goes smoothly.
Whether your event is casual or formal, an intimate affair with 20 guests, or a large celebration, we can support your commercial tent rental needs to guarantee your guests enjoy a memorable experience.
How Does it Work?
Are you looking to rent a commercial tent in St. Louis? The Bounce House Company is ready to assist. We handle all the heavy lifting, so all you have to worry about is booking your tent rental and knowing where we should set up shop.
You may rent the tent for however long you need. Our team will set up your tent before your event and disassemble it when your event is over. You don't have to lift a finger. Our commercial tents are thoroughly cleaned and disinfected after each use.
Ready to book? Contact a member of our team today. From the initial consultation right through the planning process and delivery, we're here for you!
20 x 20 Tent Seating Chart
20 x 30 Tent Seating Chart
20 x 40 Tent Seating Chart