Leading Tent Rentals in St. Louis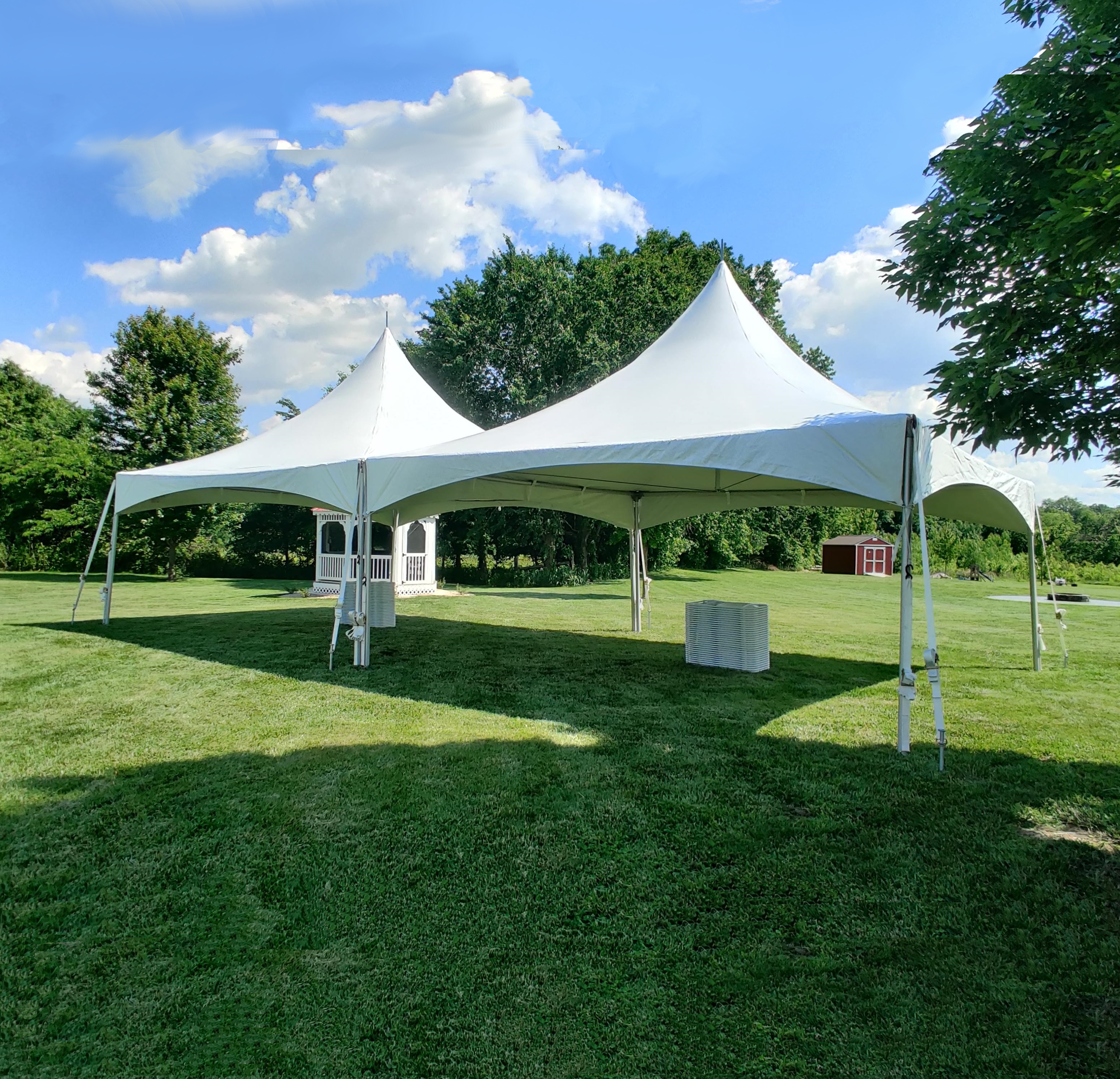 When it comes to tent rentals,
we have you covered!
The Bounce House Company has been the leading party tent rental in
St. Louis, MO
, for over a decade. We are proud to have been part of many private and public events. Our priorities have always been the happiness and satisfaction of our customers. That said, over the past few years, we've worked hard to add a wide variety of tents of various types and sizes. That's why we now have the largest selection of tents in St. Louis and numerous other
event rental services
.
Our tents range from small to super large, capable of accommodating several dozen people at an outdoor event. Furthermore, our services come backed by excellent customer service and competitive pricing, which means you save money without compromising quality.
Are you looking for a party tent rental in St Louis? Then feel free to pick up the phone to give us a call today!
Select Your Date
Why Choose Our Event Rentals?
Over the years, we have earned a reputation for being the leading party rental service in St. Louis. One of the reasons we continue to be a trusted resource for people organizing private, public, and corporate parties is that our team can be counted on. Regardless of the size or type of party, we make it a point to deliver on time, set up the equipment you rent, and do everything we can to ensure that your party is a success.
Here are a couple of more reasons to choose our party rental and St. Louis tent rental:
A large selection of tents – We have a growing number of tents. You can find and rent tents in various sizes, shapes, and colors. Whether it is a corporate party or a private event, we probably have a tent that suits your needs best. We can also help you choose a tent best suited to your event.
Excellent customer service – We aren't your average tent rental service in St. Louis. At The Bounce House Company, we pride ourselves on providing top-tier customer service that helps people choose the right tent size and type for their event.

Transparent pricing – Our pricing across the board is the same regardless of whether you hire a single or multiple tents. Furthermore, there are no hidden costs for installation, transportation, etc. The prices you see are all-inclusive.
We install the tents for you – As part of our tent rental service, we will set them up for you. Our team will set up the tent at the venue of your choice. However, acquiring the needed permits may be needed if it is in a public space. If you are unsure about the process or have questions, feel free to contact our team.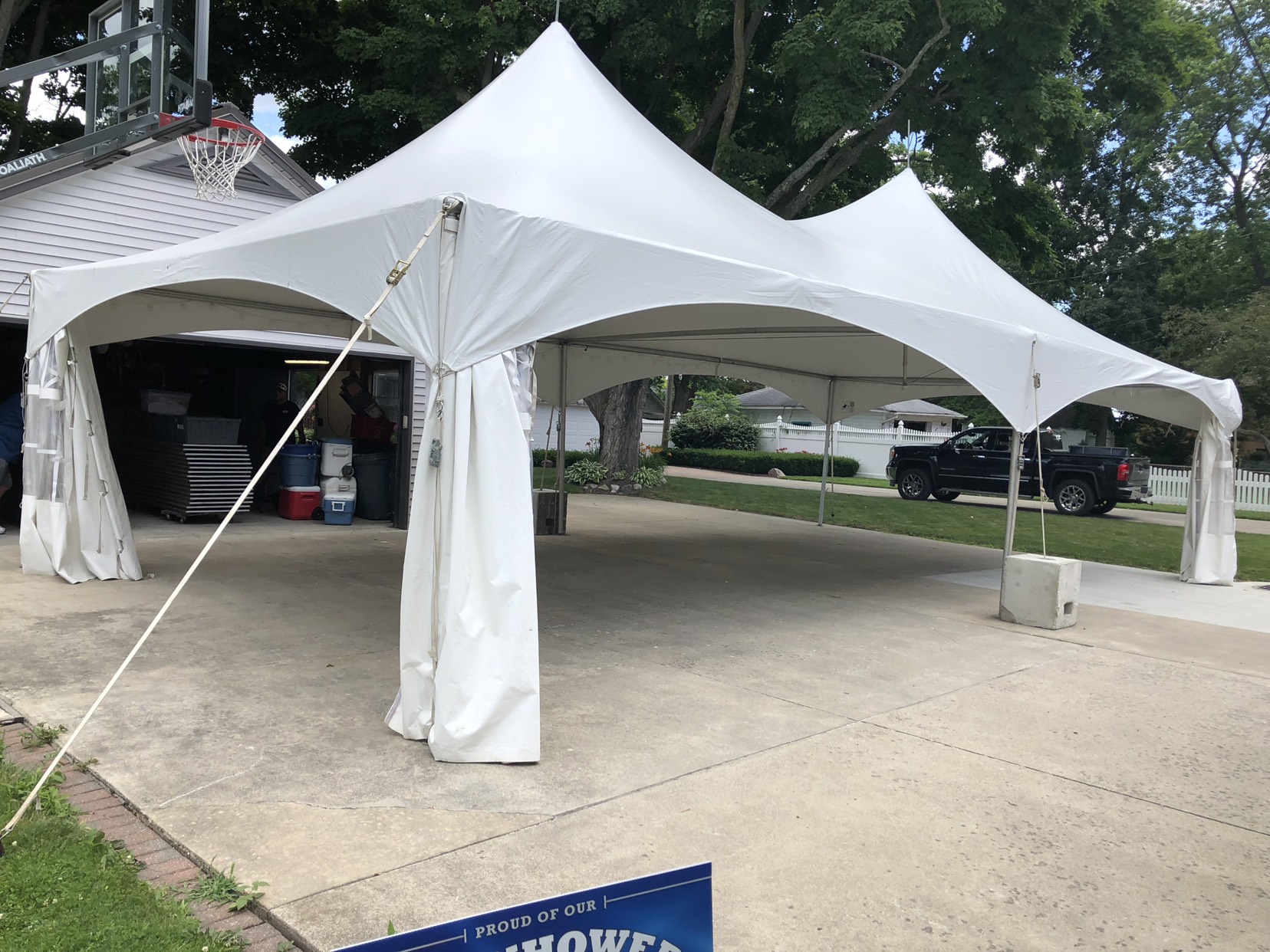 We Don't Compromise On The
Quality Of Our Tents
We have some of the highest quality tents you'll find in St. Louis, MO. We have worked hard to ensure that our selection of tents includes nothing but the best, especially since they are used to protect guests from rain and the hot sun. Our years operating in Missouri have taught us that the weather can be unpredictable, which is why if you're hosting an event or party outside, having a tent setup is important.

We have a selection of large commercial tents, which can easily accommodate several theatre-style seats, round tables, chairs, and banquet-style seats. Speaking of seats, we have them too! All our tents are secured using concrete anchors, that way; you don't have to worry about a strong gust of wind ruining your party.

Our on-time delivery is followed by our team assembling and then later disassembling the tent you hire. We make it a point to show up on time for the event, often hours ahead of time to set up everything. Trust us, we know, nobody wants to see the tent guys still working when the party is scheduled to be underway!

We pride ourselves on having clean, high-quality St. Louis tent rentals considered the best in the industry. Our tents can be set up on grass and concrete, though the latter is more secure. We work with business owners and homeowners alike to ensure that the tent they hire is set up exactly how they want it.

10x10 Tents – This is the ideal size for a backyard event or a vendor setup. The 10x10 High Peak can easily accommodate up to 15 guests.

20x20 Tents – This is the ideal size for anyone who wants to host a backyard party, like a birthday party or small family event. The 20x20 High Peak can easily accommodate up to 40 people.

20x30 Tents – The 20x30 is best for small intimate wedding receptions and more significant backyard events. However, these may not easily fit in most average-size backyards. That said, it could easily accommodate up to 60 people.

30x30 Tents – The 30x30 is great for receptions and mid-size events. 30x30 high peak tents can accommodate up to 90 people.

20x40 Tents – This is the ideal size for medium size parties that need to accommodate up to 80 people. It may be the perfect size for corporate outdoor parties.

20x60 Tents – Larger size and can accommodate 120 people. The High Peaks Tents and Frame Tents are ideally suited for large events like weddings, corporate parties, and commercial events hosted in public spaces.

40x40 Hex Tents – Unique tent with a hexagon shape. Up to 120 guests. Ideal for large events like weddings, corporate parties, and commercial events hosted in public spaces.
We know that renting a tent isn't easy. That's why we have a team of experts trained to help you decide on the best type and size. If you are considering renting a tent, give us a call.

We've also got a wide selection of tables, chairs, lighting, etc., all of which will make your party special. Call us today to find out more.
20 x 20 Tent Seating Chart
20 x 30 Tent Seating Chart
20 x 40 Tent Seating Chart