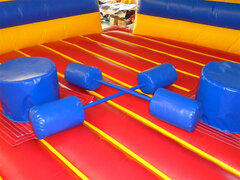 Your favorite kid games, but bigger...
Plus, many more games for rent
We take your favorite family board games and make them GIANT! Connect 4, Jenga, dice, chess, checkers, beer pong...and on and on! You can choose from a variety of game rentals for your party.
It is all friendly competition, even with our inflatable jousting arena. Your yard can quickly become the carnival of your creation. Our game rental service is easy and convenient. Simply browse our inventory online and choose the games that best suit your party's theme and age group. We'll even deliver and set up the games at your party location, so you can sit back and enjoy the festivities without worrying about entertainment.
Select Your Date
  Games

Games for rent in the St. Louis area