Yard Greeting Sign Rentals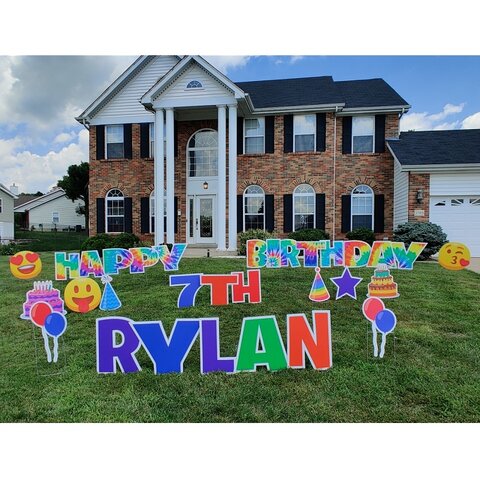 Say it Loud and Clear,
Colorful and Bold Yard Greeting Sign Rentals!
Yard greeting signs are a fun and creative way to celebrate any event, from birthdays and graduations to weddings and retirements. These signs can be customized with various messages, shapes, and emojis, making them a unique and personalized addition to any party or celebration.
The signs are typically made of durable and weather-resistant materials, ensuring that they can withstand the elements and remain in place throughout the duration of the event. They can be placed in yards, driveways, or any other visible location, providing a festive and eye-catching display for guests and passersby alike.
Whether you opt for a traditional "Happy Birthday" message or something more specific to your event, such as a graduation cap or wedding rings, yard greeting signs are a great way to make a statement and celebrate in style. And with the addition of various emojis, you can add a playful and whimsical touch to your sign, making it even more memorable.
So if you're looking for a creative and fun way to celebrate your next event, consider adding a yard greeting sign to your party decor. Your guests will love the festive vibe, and you'll have a unique and personalized keepsake to remember the occasion.
Select Your Date
Choose from many of our yard card greetings! The best selection of yard greetings in St. Louis! Give us a call to help create your order.