Inflatable Movie Screen Rentals St. Louis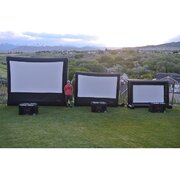 Make your event a blockbuster hit,
Rent a movie screen!
Hosting an outdoor movie night for your family, friends or employees can be a fun and memorable experience. And what better way to make it happen than with an inflatable movie screen rental? These giant screens offer a unique viewing experience that is sure to impress your guests.
Inflatable movie screens come in a variety of sizes, such as 30ft x 17ft, 16ft x 24ft, and 20ft x 30ft, making them perfect for any event, big or small. The larger the screen, the more impact it will have on the audience, as it will provide a more cinematic experience.
In addition to movie nights, inflatable screens can be used for other events such as sports games, corporate events, and concerts. They have become a popular choice for hosting drive-in events due to the pandemic.
Overall, inflatable movie screen rentals are a great way to create a memorable experience for your guests. With a variety of sizes to choose from, you can find the perfect screen to fit your event's needs.
Select Your Date